Visit of Management Representatives of IDGC Ural and Chelyabenergo
On 6 February 2018, management representatives of the Interregional Distribution Grid Company of Ural and its branch Chelyabenergo visited Izolyator plant.

Interregional Distribution Grid Company of Urals (IDGC of Urals) is a united grid operator that transports electric energy via 0.4–220 kV power lines and connects consumers to networks in the Sverdlovsk, Perm and Chelyabinsk regions. IDGC of Urals administers over 150 thousands km of aerial and cable power lines, 36 thous. of substations (overall installed capacity — 52 thous. MVA). IDGC of Urals is a subsidiary of PJSC "Rosseti".
Chelyabenergo transmits electric energy via 0.4–110 kV power lines. The key goal of the branch is to ensure reliable operations and evolution of the Chelyabinsk region grids as well as connection of new consumers to the Company's grids. Chelyabenergo is a branch of Interregional Distribution Grid Company of Urals.
The distribution grid company and its branch were represented by the Acting 1st Deputy General Director, Chief Engineer of IDGC Ural JSC Vladimir Bolotin and Acting Chief Engineer of Chelyabenergo Sergey Godunov.
At Izolyator the guests were received by the Chairman of the Board of Directors Alexander Slavinsky and Director of Partner Relations Oleg Bakulin.
The visit program included a tour of the manufacturing facility with special attention paid to the technology of manufacture and testing of high-voltage bushings with solid RIP insulation.
At the talks, the sides discussed issues of supply and operation of Izolyator high-voltage bushings to the power facilities of IDGC Ural.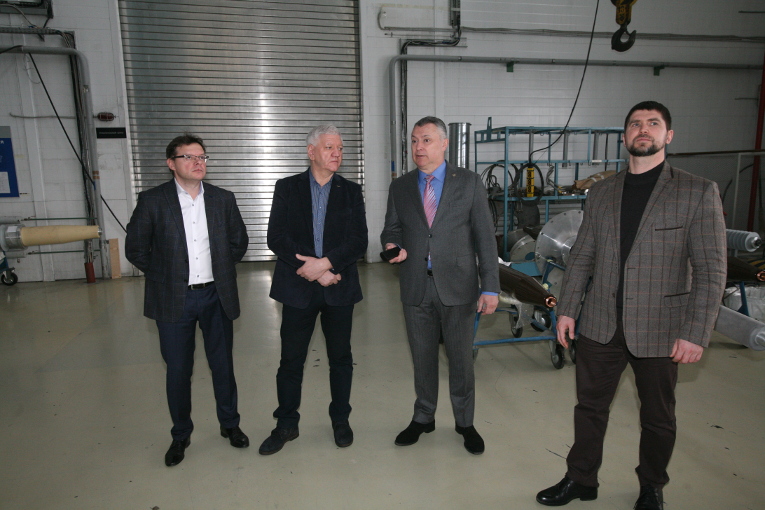 Visit of IDGC Ural and Chelyabenergo reprepresentatives to Izolyator plant, L-R: Oleg Bakulin, Sergey Godunov, Alexander Slavinsky and Vladimir Bolotin
We appreciate IDGC Ural representatives for the plant visit and a constructive dialogue!